Rugged TUFF BLASTER, Powerful Tire Seater That's Built for Speed and TUFFness
The Rugged TUFF BLASTER® Bead Seater makes seating the most difficult bead not only safe but simple, fast and economical. Designed for commercial use on all tires from small 4″ to 24.5″ truck tires.  A 1 1/2″ tank opening allows use of the special designed barrel giving added "spread" of the discharge.  A simple charge of the tank is all it takes to seat the most difficult tire beads.  Quickly seats the tire by supplying a high volume of air into the tire, expanding the tire sidewalls to set the bead onto the wheel rim; air can then be added through the valve stem to complete the full inflation of the tire. Safe for use with TPMS sensors. The Rugged TUFF BLASTER® Bead Seater has a ASME certified steel tank.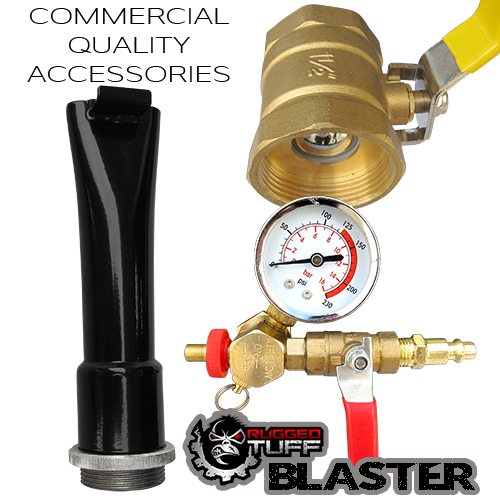 Product Summary
Seats a Wide Range of Tires
From small 4in. trailer tires all the way up to 24 1/2in. truck tires, this handy compact unit can quickly, easily and effectively seat a bead to help get the tire road-ready.
Easily Seat Like a Pro
The BLASTER operates on standard shop air with a maximum of 150 PSI and utilizes a variety of features for easy operation. The 1/4in. air inlet shutoff valve matches the amount of air dispersed to the size of the tire being seated, and a pneumatic gauge makes it easy to check for the correct fill pressure. A specially designed lip keeps the threaded barrel at the perfect angle for air insertion during bead seating, while the quick release 1-1/2in. butterfly valve spreads the air to deliver a full impact of air discharge into the tire.
Easy to Transport, Easy to Store
A carrying handle is built right into the BLASTER Bead Seater for easy portability. The unit also includes mounting feet to help protect the barrel assembly from damage and aid in storage.
Safe and Durable Construction
The commercial quality steel tank is ASME certified as it conforms to the ASME Boiler and Pressure Vessel Codes, offering peace of mind for safe operation. The tank also features a tough powder-coat finish for added durability and rust resistance.
Features….
5 or 10 gallon ASME-certified steel tank with powder coat finish for durability
Seats beads on all tires, from small 4in. tires to 24 1/2in. truck tires
Includes easy carry handle for portability
Included mounting feet makes storing the unit easy and helps protect the barrel assembly from damage
Operates on standard shop air; Max 150 PSI
1/4in. Air inlet shutoff valve allows for filling the correct amount of air for the size of tire being seated
Pneumatic gauge makes it easy to fill the correct amount of air for the size of tire being seated
Lip on threaded barrel allows for proper angle for air insertion for correct bead seating
Quick-release 1 1/2″ butterfly valve allows for full impact of air discharge into tire